Volatile Organic Compound VOC Meters, Monitors
For handheld and long-term VOC measurement and logging
GrayWolf's portable and semi-permanent VOC meters, monitors are highly versatile, for low parts-per-billion ranges up to high PPM toxic VOC exposure ranges. Volatile Organic Compounds (VOCs) emanate from a broad range of sources in industrial and general indoor air quality (IAQ) applications. GrayWolf offers five different plug-and-play Photo Ionization Detector (PID) sensors to choose from; with ranges optimized for your specific application. The DirectSense II-3 probe includes your choice of any of those PIDs, along with relative humidity and temperature. Our DirectSense II-5 probe also includes the sensors for %RH, °C/°F, accommodates your choice of PID plus up to 2 specific gas sensors (electrochemical or NDIR). The DirectSense II-8 probe offers a PID, %RH, °C/°F, and the choice of NDIR carbon dioxide CO2) and/or up to 5 electrochemical specific gas sensors (8 total).  Our original DirectSense I Classical probes, while not plug-and-play, are also available in various configurations. Coupled with the power of our versatile meters and monitors, end-users can efficiently log and annotate readings, while easily accessing on-board information about specific volatiles and potential sources.
Optional GrayWolfLive™ software allows remote access to instrument data & notes via smartphones, IPads, Droids, PCs, etc.
Meter pouches and probe belt clips allow hands-free operation.
Choice of low ppb, low ppm, mid-range ppm, wide/high-range ppm and high %RH VOC optimized PID sensors
Excellent sensitivity, very low limits of detection (down to <5 ppb); crucial for IAQ/green building applications

%RH and °C/°F are also included; add up to 5 specific gas sensors, in addition to the PID, in one probe

Choose from 25 different electrochemical gas sensors, such as carbon monoxide (CO), ozone (O3), ammonia (NH3), Cl2, H2S, NO2, NO, SO2, ClO2, HCN and more
In addition, a high accuracy, fast response NDIR carbon dioxide (CO2) sensor is available (thus perfect for ARC Skoru, LEED, WELL or other ongoing maintenance applications where this sensor is accepted technology)
Ideal for screening for if/when and where air sampling might be advised
Rapid response; ideal for "blood hounding" VOC sources
Connect to a GrayWolf manufactured instrument (AdvancedSense®

 or WolfPack

®

), a GrayWolf supplied WIN 10 Mobile Tablet or to your own Laptop/Notebook PC

Log portable spot measurements, or monitor and record data unattended over time in secure trend data-logger housing
Store enhanced survey information; data and text, audio, drawings, video notes and more; all auto-associated with relevant location/site files
On-board list of potential sources of measured VOC levels and other useful info
Almost all Total VOCs (TVOCs) of concern for Indoor Air Quality (IAQ) situations are detected. Click here

for more IAQ application options

On-board correction values for specific volatiles versus standard calibration compound (isobutylene)
Our optional GrayWolfLive cloud platform

enables remote access to live and logged VOC data, from one or multiple GrayWolf probes, on your smartphone or on just about any internet connected device. View data as live readings, tables, gauges and/or graphs and more.

Click here

for more info.

Load your own application related documents or procedures (.pdf, Word, HTML, etc.)
Software handholds users through user calibration procedure; even includes an on-board instruction video
Extremely easy-to-use
Desktop data analysis and reporting software is included.
Optional advanced report generation (ARG) software significantly reduces any report generation time on VOC testing and is available with templates for LEED, WELL and ARC reporting on TVOC measurements
GrayWolf TVOC, multi-gas monitors, meters, detectors and instruments efficiently log your data and enable enhanced documentation for your surveys by means of cutting-edge sensor technology, advanced software and the power of mobile computing.
Display real-time graphs, on-board help videos, note-taking tools and much more
Easily Handheld VOC Meter
View VOC data direct on your Smartphone; locally via Bluetooth LE wireless or remotely via Wi-Fi and our GrayWolfLive Cloud Platform
GrayWolf's all-new, purpose-built AdvancedSense® XM meters are feature rich. Up to 32 simultaneous parameters connecting multi-sensor DirectSense® II probe(s), in addition to other internal and external sensors (and/or particle meters) via cable and/or Bluetooth. Also use this meter's Wi-Fi to access all parameters via the cloud.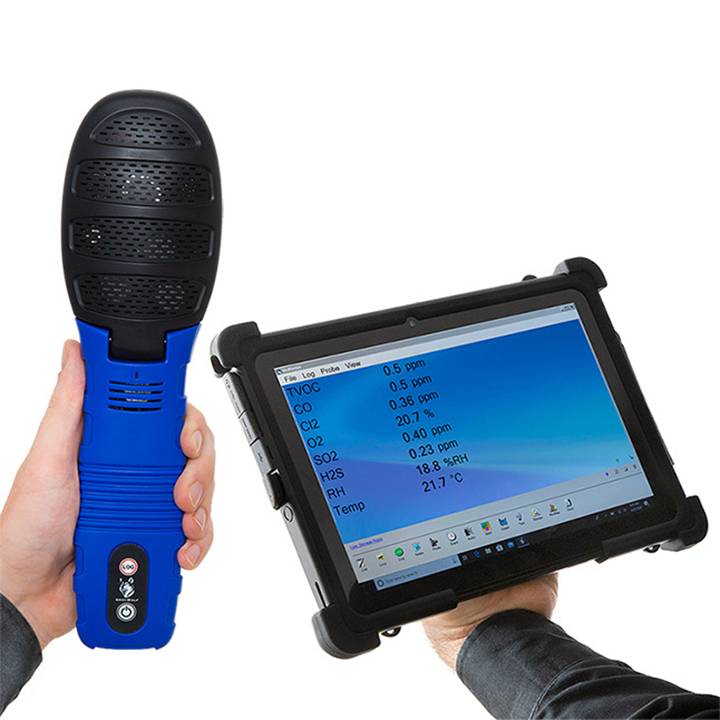 GrayWolf supplied MS Windows Tablets are provided with relevant accessories. Or use WolfSense® LAP software to enable your own WIN 8/10/11 Laptop/PC. Multi-probe connection via cable and/or Bluetooth wireless. Feature rich.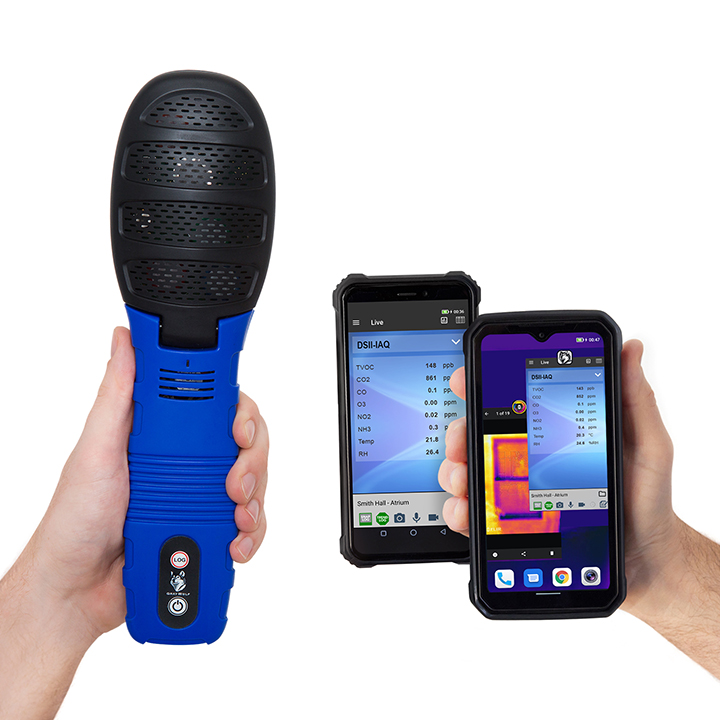 Bluetooth connection direct to iOS and Android devices (tablets, smartphones, etc.). Use your own or GrayWolf supplied. Audio/photo/video/IR/text notes, advanced data-logging, on-screen graphing, sensor tips and many other features using the free Apple and Google Play store WolfSense Mobile apps.
GrayWolfLive® secure cloud platform for remote real-time access, data-logging, and alerts. Connect straight from Wi-Fi enabled DirectSense II probes or via various GrayWolf meters, tablets, iOS or Android devices. View data as text, graphs, gauges, and/or tables. More Info