Toxic Multi-Gas Meters, Monitors
For handheld & long-term Toxic Gas measurement and logging
For 20 years GrayWolf has offered advanced, highly versatile portable and semi-permanent multi-gas toxic gas, such as Ozone (O3), Ammonia (NH3), Chlorine (Cl2), H2S, SO2, NO2, HCl, HCN, H2, CO2, ClO2 meters, monitors, and more. Our all-new DirectSense® II and classical DirectSense I multi-gas probes, when connected to our purpose-built AdvancedSense® meters, to tablet PCs, to WolfPack® area monitors, or to the cloud via WiFi combine the latest available electrochemical, PID and NDIR gas sensor technology with the advanced capability of mobile computing. GrayWolf toxic gas monitors harness the power of our rugged, embedded computer meters and economical mobile PCs to significantly improve your toxic gas test and reporting capability.
SO

2

  NO

2

  NO  CO  NH

3

  H

2

S 
CO2  HCN   HCl   H2   O2   O3   EtO   Cl2  SiH4  F2
AsH3   B2H4   PH3   ClO2  COCl2  HF  Sensors
Select from one up to 6 gas sensors, plus temperature and %RH, in a single probe, from a choice of 25 different gasses.
In addition, options for Formaldehyde, Airflow, Differential Pressure, Particulate, and more interconnecting sensors/meters.
DirectSense II probe smart sensors are plug-and-play, change them out yourself for the application at-hand, when you want to add measurement parameters in the future, or just to send individual sensors in for updated "Factory" calibrations.
Plug in multiple probes (2, 3, even 4) simultaneously into a single meter.
Connect to a GrayWolf supplied embedded PC instrument, WIN 10 Tablet or to your own WIN 7/8/10 Notebook/Desktop PC
Log portable spot measurements, or trend log (unattended) over hours/days/weeks/months
Store enhanced survey information; data, text, audio notes and more…
Auto-attach photos, videos, calibration details and more to data files
On-board sensor tips; government & industry guidelines, cross-sensitivity info and more…
Desktop data transfer and feature-rich reporting software is included
Optional Advanced Report Generator software makes detailed report production ultra-efficient
Our optional GrayWolfLive™ cloud platform enables remote access to live and logged Toxic Gas data, from one or multiple GrayWolf probes, on your smartphone or on just about any internet connected device. View data as live readings, tables, gauges and/or graphs. Send alerts via e-mail, text or (soon) WhatsApp, if hi/low setpoints are exceeded. Click here for more info.
Load your own application related documents or procedures (.pdf, Word, HTML, etc.) for field access
Extremely easy-to-use
Image courtesy of Bureau Veritas©
Up to six (6) gas sensors plus %RH and °C/°F (8 total) in a single probe. Multiple probes may be connected to AdvancedSense XM meters, up to 32 parameters total
Connect via Bluetooth LE wireless direct to Apple iOS and Android smartphones, iPads, and tablets with free apps (requires a radio card shipping July 2021 forward). Single probes via Bluetooth LE or multi-probes via Wi-Fi.
Toxic gas sensors are available for measuring Ozone (O3), Ammonia (NH3), Sulfur Dioxide (SO2), Nitrogen Dioxide (NO2), Nitric Oxide (NO), Carbon Monoxide (CO), Hydrogen Sulfide (H2S), Hydrogen Cyanide (HCN), Hydrogen Chloride (HCl), Oxygen (O2), Chlorine (Cl2), Arsine (AsH3), Diborane (B2H4),  Phosphine (PH3), Phosgene (COCl2), Silane (SiH4), Chlorine Dioxide (ClO2), Fluorine (F2), Hydrogen (H2), Hydrogen Fluoride (HF), Carbon Dioxide (CO2) and Ethylene Oxide (EtO).
Up to 6 smart gas sensors, in addition to a smart relative humidity and temperature sensor, can be configured into a single DirectSense II-8 probe. Or choose the more economical DSII-7, DSII-5, DSII-3 or classical line DSI probe versions when less flexibility is sufficient.
GrayWolf multi-gas, toxic gas monitors, meters, detectors and instruments efficiently log your data and enable enhanced documentation for your surveys by means of advanced software and the power of mobile computing.
Optional GrayWolfLive™ software allows remote access to instrument data & notes via smartphones, iPads, Droids, PCs, etc.
Windows Tablet PCs may alternatively be connected, via cable or Bluetooth wireless to single or multiple probes
Optional PCC20 Hard Shell Security Case for unattended, long-term trending
GrayWolf's all-new, purpose-built AdvancedSense® XM meters are feature rich. Up to 32 simultaneous parameters connecting multi-sensor DirectSense® II probe(s), in addition to other internal and external sensors (and/or particle meters) via cable and/or Bluetooth. Also use this meter's Wi-Fi to access all parameters via the cloud.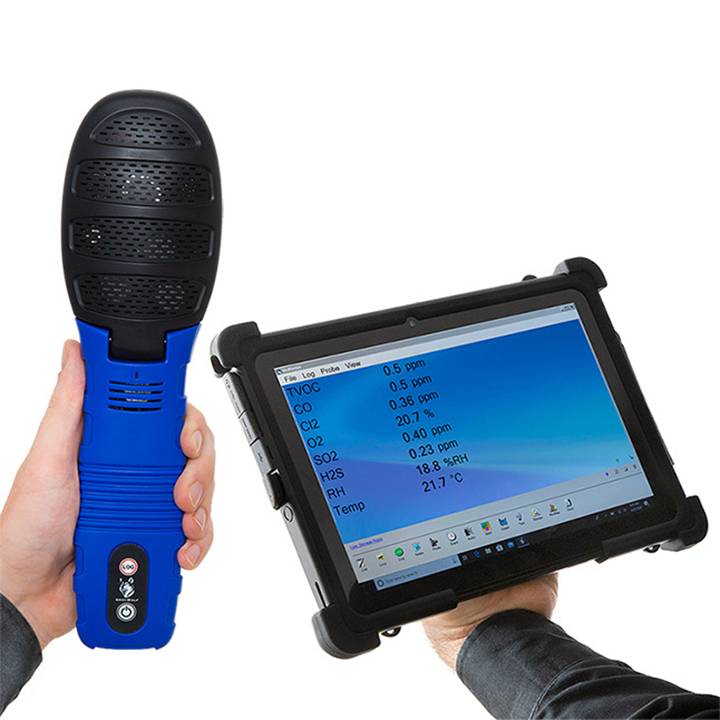 GrayWolf supplied MS Windows Tablets are provided with relevant accessories. Or use WolfSense® LAP software to enable your own WIN 8/10/11 Laptop/PC. Multi-probe connection via cable and/or Bluetooth wireless. Feature rich.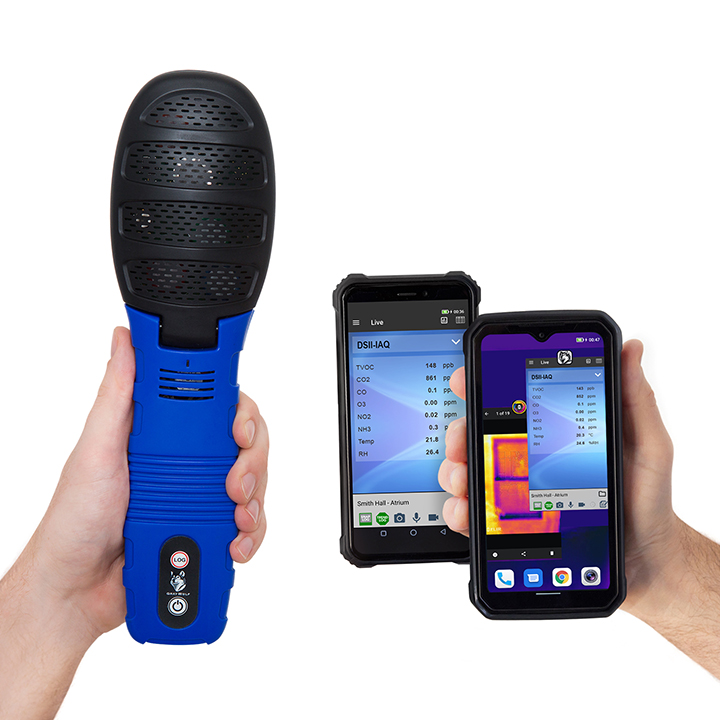 Bluetooth connection direct to iOS and Android devices (tablets, smartphones, etc.). Use your own or GrayWolf supplied. Audio/photo/video/IR/text notes, advanced data-logging, on-screen graphing, sensor tips and many other features using the free Apple and Google Play store WolfSense Mobile apps.
GrayWolfLive® secure cloud platform for remote real-time access, data-logging, and alerts. Connect straight from Wi-Fi enabled DirectSense II probes or via various GrayWolf meters, tablets, iOS or Android devices. View data as text, graphs, gauges, and/or tables. More Info
Check out this brief overview of GrayWolf's advanced gas and IAQ meters/instruments & how to organize a demonstration specific to your Toxic Gas measurement needs.