Zephyr Differential Pressure Meters & Modules
Zephyr III ΔP (and ΔT) meter (with optional RH-AS2 %RH, °C/°F direct connect probe)
Zephyr III Digital Micromanometer
Highly Accurate, Low L.O.Ds, Yet Wide Measurement Range
Each Zephyr III instrument incorporates dual auto-ranging DP sensors, auto-zeroing (for data-logging stability), as well as dual 'K'-type thermocouple sockets for measuring differential pressure, static pressure and differential temperature. With a pitot tube, the Zephyr provides direct air velocity readings. Volumetric flow is calculated by simply entering the size of the duct and the instrument performs the necessary calculation. Zephyr IIIs can also be fitted with a telescoping air velocity probe (models AS-201 or AS-202) to measure temperature and exceptionally accurate hotwire airspeed and/or an RH-AS2 probe for accurate relative humidity and °C/°F.
The Zephyr III incorporates a number of enhancements over the Zephyr II meter that it replaces and which had been utilized by many 1000s of clients over the last 20+ years.
The Zephyr III is a stand-alone instrument with the ability to capture instantaneous snap-shot logs, or to trend log over time. Audio and text notes, among others, may be added to the data files via a built-in microphone and the virtual keyboard. Recorded data may be downloaded to WolfSense PC reporting and analysis software, which is included.
-Standard inputs

Built-in, auto-zeroing, micromanometer (with broad range, yet excellent resolution)
Dual 'K' type thermocouple sockets

Optional probes

2 function probe; hotwire airspeed, °C/°F
Pitot static tubes
Display and log calculated volume flow from hotwire probes or pitots
Direct connect or handle connected %RH and °C/°F probe
Surface, immersion, penetration, air K-type thermocouple temperature

Large color display

Display and measure up to 8 parameters simultaneously
Scroll through readings on display
Automatically updated when probes plug in
On screen instructions, even videos, for easy operation

Data port

Allows logged data to be downloaded to included WolfSense PC data download and reporting software or to a spreadsheet for analysis (USB data cable included)
Manual "Snap" or automatic "Trend" data-logging available
Advanced data-logging for unattended surveys

Intuitive menu system

Minimum training required
Easy-to-use
Screen prompts guide user through operation

Rechargeable Li-Ion batteries

24+ hours operation on a full charge
AC power adapter/charger included

Durable housing

Impact resistant
Comfortable to use
Single-handed operation
Optional meter pouch or belt-clip(s) available for hands-free operation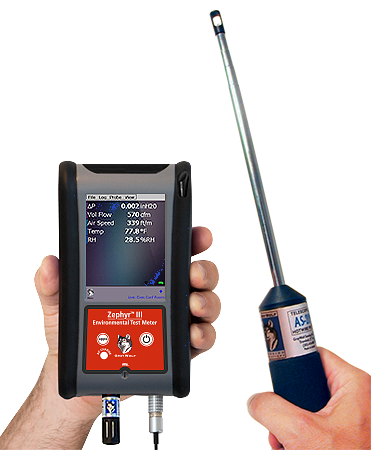 Optional, telescoping AS-201 telescoping hotwire air velocity probe. Highly accurate. Also available with articulating tip (AS-202A)
Zephyr III Kit includes Data-logging Micromanometer, 2m (6ft) Dual Tubing, download Cable, WolfSense PC Data download Software and hard-shell Carry Case (with cutouts for optional extendable PIT-504 pitot kit, AS-201/201 and RH-AS2).
Part Number
Zephyr III-ST-Kit
Zephyr III-PLUS-Kit
Contents
Zephyr III Instrument
Zephyr III Instrument
PCC-22 Carrying Case
RH-AS2 %RH, Temperature direct-connect probe
6ft of dual tubing
AS-201 telescoping hotwire Air Velocity probe
Mini-Tripod
PIT-504-KIT expandable Pitot Tube kit
Universal AC Adapter
PCC-22 Carrying Case
PC interface Cable, USB
6ft of dual tubing
WolfSense PC Data Transfer/Reporting Software
Mini-tripod
1 yr WSAS software subscription
Universal AC Adapter
PC interface Cable, USB
WolfSense PC Data Transfer/Reporting Software
3 yr WSAS software subscription
Zephyr-LDP Differential Pressure Module
Highly Accurate, Low L.O.D.s, Yet Wide Measurement Range
With the DP auto-ranging and auto-zeroing features, as well as the exceptionally low limits-of-detection, yet wide range of GrayWolf's Zephyr III and AdvancedSense meters, this differential pressure sensing module connects to your laptop. Display and log DP, and optionally pitot airspeed, BP, %RH and °C/°F on your Windows computer with all of the extensive range of GrayWolf features available to you as well as simultaneous probes for a host of other measurement parameters (which are pressure compensated if you include the barometric pressure option). Use the Zephyr-LDP as a stand-alone high accuracy DP sensor for varied HVAC applications, or use it for IAQ pollutant pathway test and monitoring applications.
• Standard inputs
   • Built-in, auto-zeroing DP module with broad (auto-ranging) range
• Optional probes/sensors
     • Pitot static tubes
     • Display and log calculated volume flow from hotwire probes or pitots
     • Direct connect or handle connected %RH and °C/°F probe
     • Barometric pressure for direct BP readings and for pressure compensation of relevant parameters (e.g. µg/m3 gas, specific humidity, etc.)
• Your connected Windows Computer, running the WSLAP app, provides:
     • Display, measure and data-log 8+ parameters simultaneously
     • On screen instructions, even videos, for easy operation
• Data port
     • Allows logged data to be downloaded to included WolfSense PC data download and reporting software or to a spreadsheet for analysis
     • Manual "Snap" or automatic "Trend" data-logging available
     • Powered by the connected laptop
• Durable housing
     • Impact resistant
     • Easily handheld
     • Optional belt-clip available
Zephyr-LDP ΔP module (with optional RH-AS2 %RH, °C/°F direct connect probe)